A Guide On How To Get CNA Certification In Houston, Texas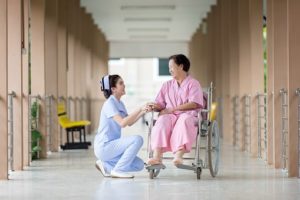 CNA is an acronym which stands for Certified Nursing Aide. These are professionals who specialize in offering care to hospitalized patients, disabled persons or senior citizens. In order to get a job as a CNA, one must first get certified and licensed. The requirements for certification vary from state to state. In Houston-Texas, this profession is regulated by the Texas Department of Aging and Disability Services (DADS). This post will discuss all you need to understand how to become a CNA in Houston.
All potential nursing aides in Houston have to complete a nurse assistant training program. The training should be undertaken at a facility that is approved by DADS. There is no minimum educational requirement for one to get enrolled in a CNA program. However, all persons enrolling for this program should be able to read and write in order to understand the training program and pass the evaluation by state officials.
For you to get certified as a CNA in Houston, you have to undertake the state evaluation exam. In order to take this evaluation, you have to undergo training. In order to get enrolled for training, there are requirements that you are supposed to fulfill. They include:
• You should be at least 18 years old
• You should have a clean background without a criminal history
• You should have a medical report giving you a clean bill of health
• You should test negative for TB
• You should have proof of immunization and a current healthcare provider CPR card
In order to be able to sit for the state evaluation, you should have received training for 75 hours. For 51 hours, you should receive classroom instructions while for 24 hours, you should receive clinical experience where you can put the skills you have learned in the classroom into practice.
By the end of the training which can take between 2 and 6 weeks, you should be able to communicate effectively with members of your team, offer advanced CPR techniques, attend to the daily needs of your resident patients, provide proper bedside care, transfer patients properly and respect the independence and rights of the patients while maintaining a very safe and clean environment.
The exam taken by prospective nursing aides consists of two parts. The oral/written exam and skills evaluation. The oral exam can either be taken in Spanish or English. If you are taking the examination for the first time, you must register for both the written exam and the skills evaluation.
If you are already certified as CNA outside the state of Texas, you can transfer your certification to Houston through the reciprocity steps by following the steps below:
• First, ensure that you are certified as an active CNA in your home state
• Do an online search and download the reciprocity form
• Get your criminal background checked and verified
• Fill out the first section in the form and send it to your home state and wait for the Nurse Aide registry to fill section 2 and then return the application form to you.
• To transfer your certification to Houston, send the fully completed application form to your home state accompanied with the results of your background check and an ID copy to the Nurse Aide Registry in Texas. Your application should be processed by the time four weeks are over.
Once you are certified as a CNA in Houston-Texas, there is no need to get your certification renewed as it does not expire. However, to maintain an active status on the registry, you should contact the registry once every two years to proof of employment.
For more information about CNA Training, visit our Houston office at:
CNA TRAINING INSTITUTE, INC
140 Eldridge Road # G, Sugar Land, TX 77478
Phone: (346) 908-0942
https://cnatraininginstitute.org/