Benefits of Getting CNA Certified in Houston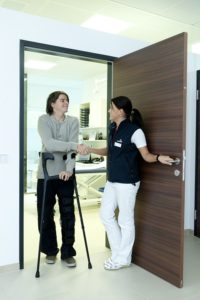 Completing your certified nurse assistant qualification can benefit you in several different ways. If you're looking for an opportunity to advance your career, even if you have just finished high school, CNA (certified nurse assistant) certification is an excellent way to do it. It helps you to take your first step in a career that is rewarding emotionally and also offers good opportunities when it comes to salary and career prospects. When you're trying to decide if CNA certification in Houston is right for you, make sure you read these benefits.
You Can Get Qualified Quickly
Becoming a certified nurse assistant is something that you can do quickly and without any prerequisites. You don't need any existing skills to get started with training, so it's an opportunity that's available to everyone. You can benefit from having a caring personality and the drive to develop your career in health care. The three-week program means that in less than a month you can be ready to start applying for jobs and getting on the first rung of the career ladder.
Open Up Career Opportunities
CNA certification is excellent is you are looking for ways to open up career opportunities in the fields of health and care. This makes it ideal for people who have just left school or who are looking for a career change that doesn't require them to have existing experience in the field. Being a certified nurse assistant can net you a competitive salary and plenty of opportunities for work in a role that is only becoming more in demand due to the aging population.
Qualify for Other Programs
Once you complete your certified nursing assistant qualification, it can start you on the path to completing other programs. After taking the CNA certification in Houston with our course, you might be interested in continuing on to complete another qualification. It can be a stepping stone to gaining your LPN or RN license. The experience that you gain both during your training and once you start working can be valuable when you want to continue your career.
Enjoy Job Security
Becoming a CNA can help you to find a secure career path that will help you to remain stable in the future. It can offer good salaries and there are plenty of opportunities to find work in a variety of different environments. You could start working in a hospital, nursing home, in client homes or various other places where the help of a CNA is needed.
Build a Rewarding Career
One of the best reasons to become a CNA is that it is a rewarding career. If you're looking for something that is emotionally fulfilling and that allows you to help people every day, becoming a nursing assistant is a great choice of career. It's an excellent way to use your caring skills and attitude to make a difference in your community.
Getting your CNA certification in Houston gives you plenty of benefits to help you develop your career both now and in the future.
For more information about CNA Training, visit our Houston office at:
CNA TRAINING INSTITUTE,INC
140 Eldridge Road # G, Sugar Land, TX 77478
Phone: (346) 908-0942
https://cnatraininginstitute.org/