Do You Get Paid During CNA Training?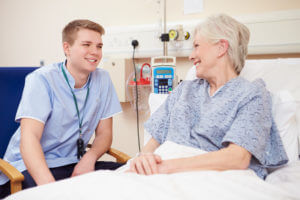 Most training institutes receive this question a lot from interested applicants. Do you get paid during CNA training? With an increased interest towards hiring certified nursing assistants in different parts of the globe, and the relatively minimal academic requirements needed to become one, more people want to become nursing assistants. Another factor that entices them to try it out is the presence of programs that will pay them as they train to become CNAs. However, there are some limitations to such deals.
Here are some things you should know about paid CNA training programs.
Just like with any other academic or technical course, generally speaking, you will need to pay for training programs to become a certified nursing assistant. This is because just like with any course that equip you with important skills, you will have to pay for the facilities used, as well as for the efforts of those who will train you. So generally speaking, you will have to pay for your CNA training. However, there are some exceptions to this rule, and that can affect your decision-making process.
Sponsored programs – There are some organizations and individuals that offer sponsored programs and scholarships for aspiring CNAs, as well as for other aspiring professionals. Thanks to the financial backing of these entities, some people are able to receive training to become CNAs with little or no financial commitment from them. The presence of such programs can prove to be a huge lift for those who are dealing with limited resources but have the desire to progress their careers.
Paid training programs – On the flipside, there are some paid training programs available for aspiring certified nursing assistants. They may or may not pay enrollment fees for the initial part of their training programs, but they will get paid once they reach the phase where they are already training in a medical facility. The one who would usually arrange for your payments is your potential employer or the healthcare facility who will facilitate your training.
Beyond these options, there are also other ways for you to get paid while you are training to become a CNA. For example, your employer can actually pay you to undergo CNA training if you actually work under them and they decide that it would be mutually beneficial for both parties if you can advance your skills and become certified. They can also provide you with financial compensation if they observe that your skills are commendable and that you can benefit from additional training as a result.
Paid training programs for aspiring certified nursing assistants do exist. You can apply to these programs and see if can actually cut it with their requirements. Regardless if you want to get paid or not during your training, it is important that you select a credible training program. Look for a program that is certified and will provide you with the best opportunities to develop your skills. Check the credentials of the training institute and see if they adequately prepare their graduates as future CNAs. Paid training programs do exist, but make sure that you sign up with a credible program.
For more information about becoming a CNA, contact our Houston office at:
CNA TRAINING INSTITUTE,INC
140 Eldridge Road # G, Sugar Land, TX 77478
Phone: (346) 908-0942
https://cnatraininginstitute.org/