How Do I Become a CNA in Houston TX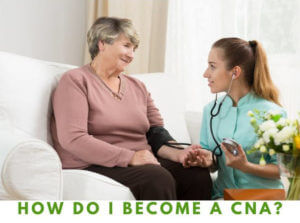 There are numerous advantages to becoming a CNA. It's a gratifying and fulfilling career, as well as one that can offer fantastic flexibility and support. As a CNA, there are countless opportunities to learn and grow, perhaps even going on to become a nurse practitioner or work in other areas of healthcare. There are varied work environments and conditions, and no two days are ever the same. When you work as a CNA, you receive a competitive salary, as well as future opportunities. It's a career path that appeals to many. The best news is that becoming a CNA in Houston TX probably isn't as tricky as you'd expect. Here's a look at everything that you need to do to become a CNA in Houston, TX. 
What is a CNA?
CNA stands for Certified Nursing Aide. As a nursing aide, you would specialize in offering exemplary care to those in need of hospitalization, disabled patients, and senior citizens. You'd work with the supervision of a registered nurse or other healthcare professional to care for patients and offer extra medical and emotional support. 
What Requirements Are There to Train as a CNA?
To become a CNA, you'll need to sit a two-part exam. Before you are ready to sit your exam, you'll need to undertake 75 hours of practical and theoretic training, which can be completed in between 2 and 6 weeks. 
Fifty-one hours of this training will take place in a classroom, learning rules and regulations, best practices, and theory-based care. The other 24 hours will be hands-on clinical experience, giving you the chance to put all of the skills that you have learned into practice. 
There are no minimum educational requirements to train for the CNA exam, but you should be able to read and write. Other requirements include:
You should be 18 years old or older

You should have a clean background with no primal record

You'll need to undertake a medical and have a clean bill of health, including a negative test for TB

You'll need proof of up to date immunizations and a current healthcare provider CPR card. 
Outcomes of CNA Training
At the end of this training, you will be ready to sit the CNA exam. You should also be able to communicate effectively with a team in a medical setting, offer advanced CPR, and attend to the everyday needs of patients with confidence. Other outcomes of your training include providing empathetic and efficient bedside care, knowing how to transfer patients safely, and being able to respect your patient's independence and individual needs while maintaining a clean and hygienic environment. 
The CNA Exam
Before starting work as a CNA in Houston, TX, and after your training, you will need to sit the CNA exam. The exam consists of two separate parts: the written or oral test and the practical skills test. You must register for both evaluations separately. The written exam is multiple-choice, and as long as you have completed and understood your training, you should have no problem passing to become a Certified Nurse Aide in Houston, TX. 
For more information about becoming a CNA, contact our Houston office at:
CNA TRAINING INSTITUTE,INC
140 Eldridge Road # G, Sugar Land, TX 77478
Phone: (346) 908-0942
https://cnatraininginstitute.org/