How Do I Pass the CNA Written Test?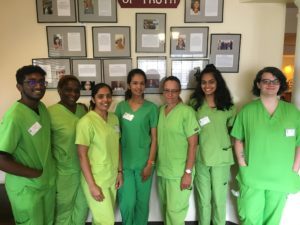 Becoming a Certified Nursing Assistant (CNA) can be considered a calling, much more than a career. After diligently going through the lessons during the CNA training, the next step is to pass the CNA exam. For anyone aspiring to build a career as a Certified Nursing Assistant, passing the written exam is one of the requirements to achieve this milestone.
If you are someone who is seeking to pass the written exam to become a CNA, here are things you can take note of.
What you need to know about CNA
A Certified Nursing Assistant is a medical professional who works under a Licensed Practical Nurse (LPN) or Registered Nurse (RN) in caring for a patient's medical or daily requirements. With the educational and practical background of a CNA in the medical field, it may be used as a step to become an RN or LPN if one would like to move up their medical career.
What are the costs?
The financial costs of becoming a CNA may depend on the training institute, examinations, and other learning materials. The tuition may range from $900 to $3,000. Textbooks, laboratory fees, medical examinations, background checks, and miscellaneous program fees should also be taken into consideration.
There are also different ways to pay for the financial cost of becoming a CNA other than cash. One may avail of a scholarship program, an employer-paid training, or a student loan to cover the cost.
The Consolidated Training Institue offers affordable fees with different payment schemes that allow one to focus on learning and becoming a CNA without the burden of large fees.
The certification fee, on the other hand, only costs anywhere between $90 and $125, depending on your location. It is also important to take note that there are existing programs that already cover the certification fee.
What should I bring?
If you are taking your written exam in a testing center, it is important to bring both the following:
A non-expired primary ID that has your photo and signature. These may be any of the following:

One government-issued ID such as a state-issued ID, driver's license, ARC)alien registration card, passport, or military card; or
A school ID with your name and signature of the school you are enrolled in; or
Employment ID of your current job with your photo and signature
A non-expired secondary ID that matches your first ID. This could be:

A social security card
A credit card with your signature
A gym card or library card with your signature
What kind of job can I get?
A Certified Nursing Assistant can build a career in any of the following fields:
Hospitals, nursing and assisted living facilities – here, one can work hand in hand with Registered Nurses or Licensed Practical Nurses in providing medical care for different types of patients
Home Health Agencies – in this career, agencies will assign a patient to a CNA. The majority of the time, a CNA in this kind of agency can focus on caring for one patient in their home.
What salary can I expect?
The average salary of a CNA is $32,658 a year. However, depending on location, employer, certificates, and performance, the salary may range from $29,763 and $36,058 annually. This does not yet include any allowance or bonuses a CNA can receive.
Being a CNA means you are going to be part of people's journey towards healing. It requires patience and a strong heart to nurture others to health. The Consolidated Nurse Aide Training Institute can help you get outstanding education and experience. Enroll now and start your journey into becoming a Certified Nursing Assistant.
For further information about becoming a CNA, contact our Houston office at:
CNA TRAINING INSTITUTE,INC
140 Eldridge Road # G, Sugar Land, TX 77478
Phone: (346) 908-0942
https://cnatraininginstitute.org/