How Do I Study for CNA Skills Test?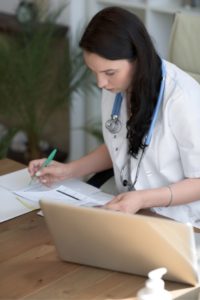 When you aim to be a Certified Nursing Assistant (CNA), you will have to pass the CNA exam. It's divided into 2 parts, which are written examination and skills test. With the written test, you'll be tasked to answer a question paper within a given time. It's usually 60 questions for 90 minutes. As for the skills test, an evaluator will ask you to show five duties or procedures within 30 minutes. There's no knowing in advance as to what they will assign to you so this part of the test is what most examinees are nervous about. Preparation is everything. It's the best way to get rid of your doubts and conquer the day. So, how do you ace the CNA exam?
Be familiar with the skills
As mentioned above, there will be 30 skills that you will need to get familiar with. Understanding their importance and practical use is of great help with memorizing them. We've listed some of it below to give you an insight:
Handwashing
Blood Pressure Measuring
Body Temperature Monitoring
Pulse Measuring and Recording
Respiration Measuring and Recording
Urinary Bag Output Measuring
Assisting to Ambulate using Transfer Belt
Feeding Assistance
Mouth Care
Mouth Care with Dentures
Foot Care
Perineal Care for Male and Female
Hand and Nail Care
Providing of Catheter Care
Bedpan Use Assistance
PPE Handling
Transferring to a Wheel Chair
PROM for knee and ankle
PROM for one shoulder
Side positioning
Applying elastic support stockings
Indirect Care
Changing of Occupied Bed
These are just the skills and each one has its step-by-step procedures that you need to demonstrate to your evaluator. Consolidated Nurse Aide Training center provides an in-depth explanation and discussion about these skills. They also have practice tests that will help you absorb the CNA skills by heart.
Gather all your resources and review
CNA training courses provide organized resources. It's educational and it's constructed in a way that it's easy to study and absorb. They provide all the things you need to know and do to pass your CNA exam. Some courses even offer video tutorials to show you how the skills are best performed. You can also opt to make your creative way of learning and memorizing the steps.
Know your area
During a job interview, it's always best to know your interviewer as part of your preparation. It's the same for the CNA skills test. You have to know your state and its testing methods. Online courses or training centers in your state will inform you about scenarios and possibilities that you'll face when the big day comes.
Final Thoughts
One part of the requirements is to complete training in a state-approved nursing school and if you were to enroll in a state-accredited nurse aide exam center, this will bolster your preparation and there will be nothing to worry about when you take your CNA skills test.
All the information mentioned above is provided by the Consolidated Nurse Aide Training. You're one step away from achieving your goal of becoming a CNA. Contact us to start your journey to a medical path:
CNA TRAINING INSTITUTE,INC
140 Eldridge Road # G, Sugar Land, TX 77478
Phone: (346) 908-0942
https://cnatraininginstitute.org/