How Long Is Training for CNA?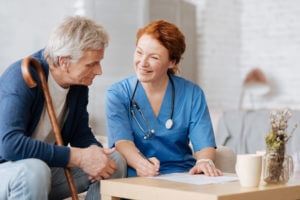 With the demand for these professionals increasing over the years, training programs for nursing assistants are on the rise worldwide. The right training program will help a person become better prepared for certification, as well as make them more competent once they make it in the field. How long is training for CNA? All that and other related questions on becoming a certified nursing assistant would be answered here.
Requirements for Joining CNA Training Programs
One of the unique selling points of being a nursing assistant is the fact that it actually has relatively minimal requirements. While other nursing jobs require you to have at least a college degree, the only thing you need to start training to become a nursing assistant is a high school degree. From there, you can apply on a CNA training program of your choice, which only demands you to complete a (relatively) minimal amount of academic and practical tasks. The minimal requirements of being a CNA, combined with its high potential for career growth, make it an intriguing option for many.
Aside from having at least a high school degree, it is also required by most nursing assistant programs that the applicant should have a clean criminal record. The person would also be subjected to a physical exam to determine if they are fit for the physical and mental rigors of being in the nursing profession.
The Average Length of CNA Training Programs
The length of CNA training programs can differ from one institution to another. However, the average length of CNA training programs is 8 to 12 weeks. After training, you can then take the certification examination in your state. Once you pass, you hold the title of a certified nursing assistant and you can proceed to go to work right away.
Again, the contents of the course can vary from one training facility to another. However, all of these facilities will cover the essential knowledge and skills that a nursing assistant should have. It includes skills such as properly taking vital signs from patients, performing range of motion exercises, and administering CPR. The aspiring nursing assistant will also be taught basic principles in hospital care such as safety, proper caregiving, and administering special care for particular members of the population.
Once you complete your training program, you will next need to pass the certification examination given by your state. This certificate is your ultimate proof that you have the right level of knowledge and skill needed to take care of patients, whether it is in a home or hospital setting. Once you pass this certification examination, you can now work as a certified nursing assistant. You also have other options such as completing a nursing degree or getting professional certification in specialized areas.
Taking a nursing assistant course and becoming certified is a fast way to establishing a career in clinical practice. A lot of these CNA programs will help you develop valuable skills that can give you a good career with a huge upside for future growth.
For more information about becoming a CNA, contact our Houston office at:
CNA TRAINING INSTITUTE,INC
140 Eldridge Road # G, Sugar Land, TX 77478
Phone: (346) 908-0942
https://cnatraininginstitute.org/