Is Becoming a CNA Worth IT?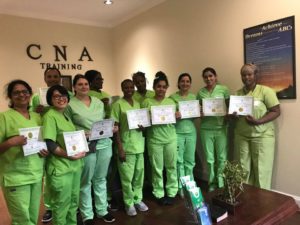 On average, CNAs in the US are paid about $13.72 per hour. Some may earn a little higher depending on state, years of experience, and demand. Some may earn a little lower than the average too. With bonuses, commissions, profit sharing, and any other monetary compensation, the average CNA can earn about $21k t $36 every year. The question is: is it worth it?
A CNA's job isn't easy. Their everyday tasks include taking care of the daily living needs of patients under their care. Most of the time, this includes taking care of elderly patients or patients with limited mobility. It's not a job for the faint of heart.
What Does It Take to Become a CNA?
The process of becoming a certified nursing assistant is easy enough that most people just need about 4 to 6 months to complete the program and become a full-fledged CNA.
You're only required a GED or high school diploma to enroll for a CNA program, and this is why this job is considered by many to be the easiest way for anybody to start their careers in the medical field. Online classes are usually held by hospitals and community colleges, and you can apply to just about any program that offers training and education for certified nursing aides, nursing assistants, or patient care assistant.
After finishing the online courses, you'll be required to attend some hands-on training as well. This is, without a doubt, the most important part of the program as it allows you to experience real-life situations faced by CNAs on a daily basis. During the training, you'll be supervised by a registered nurse or a licensed practical nurse just like you would be as a real CNA.
After all the training comes certification. You need to take and pass the certification exam on the state where you'd be working in, but you can also have this certification transferred to another state should you decide to move and work in another state.
What Do CNAs Do On a Daily Basis?
To help you decide if the average hourly pay of around $13.72 is worth it, here are tasks that CNAs are expected to perform:
Communicating medical needs – CNAs take and record a patient's heart rate, pulse, temperature, and blood pressure. These vital signs are reported to supervisors who decide if any action or change in treatment is necessary. You may also be tasked with speaking to the patient's family to let them know how the patient is doing.
Maintaining a patient's room – Like some hospital attendants, you may be tasked with maintaining the cleanliness of a patient's living area. Job duties may include cleaning and replacing soiled sheets, changing bedpans, setting up medical equipment, and sanitizing equipment and other items used by the patient.
Helping a patient with daily needs–As a CNA, you should be prepared to groom, bathe, or even comb your patient's hair. You may be asked to help them eat, drink, move, and go to the bathroom. For long-term stay patients, you may even serve as a trusted friend and a reliable companion.
For more information about becoming a CNA, contact our Houston office at:
CNA TRAINING INSTITUTE,INC
140 Eldridge Road # G, Sugar Land, TX 77478
Phone: (346) 908-0942
https://cnatraininginstitute.org/