Moving on From Being A CNA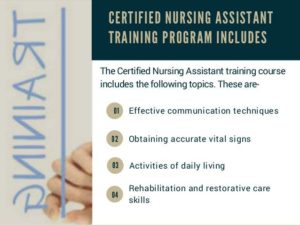 While being a certified nursing assistant can be safe and stable career path, not many want to be a CNA forever. You can move on from being a CNA to being a licensed practical nurse (LPN) or to being a full-fledged registered nurse (RN).
Certified Nursing Assistant
It's relatively easy to train to be a CNA. Community colleges' programs can be as short as 4 weeks. Some nursing homes even offer paid training, as long as you commit to the nursing home after becoming certified as a CNA.
A CNA's duties include helping patients with their ADLs (activities of daily living) like bathing and eating, monitoring output and intake, checking vital signs and blood sugar levels, and helping nurses with tasks like repositioning patients and changing dressings.  However, with the exception of special instances, CNAs cannot hand out medications or make assessments.
According to the BLS (Bureau of Labor and Statistics), a CNA's average pay is $24,400 annually or $11.73 an hour. Working weekends and nights can give you a $5 an hour differential. As CNAs are needed, overtime can be an option. A certified nursing assistant can work in hospitals, nursing homes, and mental health facilities.
Many CNAs want to move up the medical ladder and study to become registered nurses. Note that being an RN comes with added responsibilities.
Licensed Practical Nurse
LPNs have more responsibilities than CNAs but have fewer responsibilities than an RN. If you're a CNA and want to become an LPN, you need to study to become one. Programs for licensed practical nurses can run for about 1 year.
LPNs can do the jobs of CNAs, with extra jobs. LPNs can change dressings, hand out medications, and nursing duties like inserting IVs and catheters. However, they can't make patient assessments. A lot of nurses become LPNs during their RN program. Thus, it's not surprising to see LPNs who are still in school.
A licensed practical nurse usually earns about $41,540 a year or $19.97 an hour, according to the BLS. LPNs can be employed in nursing homes, hospitals, schools, clinics, and home health. LPNs and CNAs are unable to have management positions and they're usually found by the patient's side.
Registered Nurse
Becoming an RN entails more education and time. A registered nurse also has more responsibility than a CNA or an LPN. While the average nursing program runs for 2 years, some hospitals require their RNs to have bachelor degrees.
RNs earn an average of $65,470 a year or $31.48 an hour, according to the BLS. A registered nurse can do the tasks of a CNA or an LPN, with the added task of critical thinking, perform assessments, do a patient care plan, do patient teaching, collaborate with doctors, and work with medical equipment like balloon pumps and ventilators.
Boosting Career Opportunities
Whether you're a CNA, a registered nurse, or a licensed practical nurse, any of these nursing professions can serve you well. If you're seeking a lengthy career with variety and growth opportunities, becoming a registered nurse may be for you.
As a registered nurse, you can leave your patient's bedside and assign your tasks to your certified nursing assistant. As a full-fledged nurse, you can find work overseas, educate future nurses, and even administer botox to those wanting to look younger.
However, whether you're a registered nurse, LPN, or a CNA, know that what you're doing is noble and that you'll always derive personal satisfaction from helping others.
For more information about CNA Training, visit our Houston office at:
CNA TRAINING INSTITUTE,INC
140 Eldridge Road # G, Sugar Land, TX 77478
Phone: (346) 908-0942
https://cnatraininginstitute.org/