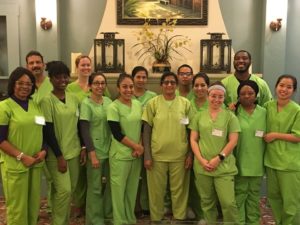 As a certified nursing assistant, you need to take the proper precautions in keeping yourself safe. You may be kept relatively safe and healthy in an indoor environment at your home state or country. However, what happens when you step out of your comfort zone and you're working abroad.
Here are some tips to keep safe as a CNA working outside the country. If you're a CNA working in a safe environment, you still need to take the same precautions.
CNAs can become licensed practical nurses and registered nurses, but there are others who are happy to remain CNAs for the long term. Being a CNA offers a lot of job variety, and one example is travel nursing. As a CNA, you can travel to practice your skills in exciting and new settings. If you're staying put or traveling to do your CNA work, remember these safety tips.
Know the Risks. You may face certain risks that you may not experience back home. When you travel, you can be exposed to diseases like cholera and malaria. You may even be in a country in the middle of political upheavals. Know what you may face and take the right action to secure your safety.
Visit the Dentist and Doctor. Have your doctor check up on you before you work in another country. You may be needing a few vaccinations. The doctor can make sure that you're in good health and you're fit to travel. Have a dentist's appointment, too. You don't want to experience a major tooth issues while you're far away.
Know the Necessary Immunization and Vaccination. When you're looking to work as a certified nursing assistant in another country, make sure your vaccines are up to date. A certain country that you're going to work in may require you to be vaccinated for certain diseases.
Take Care with Prescription Meds. If you take medicines, make sure you don't end up in trouble while you take them abroad. Keep your meds in its original container, including your doctor's name and your name. If you have certain medical conditions, wear a medical ID bracelet.
Verify Insurance Coverage. Many insurance plans have limited overseas coverage. Thus, read the fine print carefully. If there's no overseas coverage, purchase travel insurance to protect yourself while you're abroad. You may also want to get trip cancellation insurance.
For more information about CNA Training, visit our Houston office at:
CNA TRAINING INSTITUTE,INC
140 Eldridge Road # G, Sugar Land, TX 77478
Phone: (346) 908-0942
https://cnatraininginstitute.org/