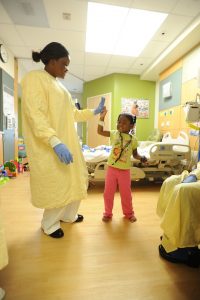 Caring for people that need your help is a rewarding part of being a certified nursing aide.  But it can also be a stressful and physically demanding position.  In order to be at your best at work, and at home, here are a few tips to help you take care of yourself so you are in a better position to take care of others.
Take care of your feet. It is no secret that CNAs can spend hours at a time on their feet.  Choose your footwear wisely. Make sure shoes are comfortable and roomy so that you don't get blisters.  They should also provide good support while walking or standing.  Rest your feet and legs when possible – at lunch or when you are on a break – so that you are ready to resume your shift when your break is over.
During training, CNAs are taught how to move patients safely for the sake of the patient and to protect the CNA's back from injury from lifting incorrectly. If you exercise and have good posture, your back should not become an issue.  Stretching and using proper lifting methods will go a long way to making sure you don't get a sore back.
Keeping hydrated is another secret to keeping you refreshed and focused during a long work day. Drink plenty of water every day and especially during your shift and you won't get headaches or become overly fatigued.
Without plenty of sleep, you can also become tired, become irritable and lose focus. Determine what amount of sleep allows you to wake up well rested and ready for another day and try to meet that minimum each night before work.
Maintain a healthy diet to fuel your body. A healthy diet is good for your patients, but it is also essential for you.  A balanced diet will help you feel good and give you the nourishment to do your job and enjoy life.  A good diet is the first step to taking care of yourself.
Our final tip is related to the stresses of the job. Working in the medical profession comes with stresses that are hard for other outside of health care to imagine.  Practice relaxation techniques such as meditation or taking a walk on your lunch break.  Exercise is also a great stress reliever.  Too much stress can ruin your health and your positive outlook, both of which are essential for a CNA.
Remember that your health and well-being are important, too.  Maintaining a healthy lifestyle and optimum fitness for the job will allow you to face each demanding day refreshed and fit for the challenges that may lie ahead.
Contact Us At:
CNA TRAINING INSTITUTE,INC
140 Eldridge Road # G, Sugar Land, TX 77478
Phone: (346) 908-0942
https://cnatraininginstitute.org/