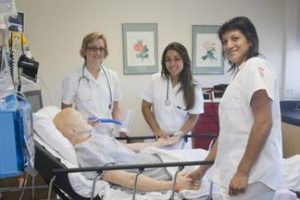 The main job of the certified nursing assistant (CNA) is to give basic care to patients and help them in daily activities that they may struggle with, such as taking a bath. Due to the job's personal nature, the CNA job description should include compassion, people skills, and being able to enjoy helping others. In long-term care facilities or in nursing homes, the CNA can be the patient's primary caregiver.
CNAs work under registered nurses, licensed vocational nurses, or licensed practical nurses. CNAs must also have excellent communication skills since they are tasked to bring patient issues and concerns to their supervisor.
CNAs also work with various medical technologies, like health information software, medical record charting software, and billing software. In certain facilities, a CNA will give the patients their medication, but this normally depends on the nursing assistant's level of experience and training and the state's regulations.
Job Description
CNAs help patients with their day-to-day activities. There also are some CNAs with extra responsibilities. The basic functions of the CNA's job include:
Taking vital signs
Serving patients their meals and helping them eat
Bathing and dressing patients
Providing and emptying the bedpans
Collecting information on treatment plans and patients' information from doctors, nurses, and caregivers
Answering patient calls
Lifting patients into their beds, exam tables, or wheelchairs
Cleaning and sanitizing patient areas
Examining patients for blood in the urine, bruises, and other wounds/injuries
Changing bed sheets and restocking the rooms with the needed supplies
A certified nursing assistant acts as a link between the patients and doctors and nurses. The CNA also records and transmit all issues to the medical staff. Other duties of the CNA may entail transporting patients to treatment units or operating rooms and setting up equipment as requested by doctors or nurses. However, the extra duties depend on the state where the CNA works.
Those who want to be CNAs should know that the job is not glamorous. At times, you may be seeing things that other people don't want to see. From cleaning up after a patient or dressing wounds, CNAs are often tested to their limits almost daily.
Salaries And Income Outlook
Career prospects for CNAs are expected grow and maintain their momentum for the next few years. The profession is expected to grow at a rate of 11%, which is faster than the average job growth. As the population grows old, demand for 24/7 personal services is on the rise.
How much does a CNA earn? According to the U.S. BLS (Bureau of Labor Statistics), the median income for CNAs as recorded in the agency's Occupational Outlook Handbook is $26,590. However, earnings vary depending on where you work. There are more experienced nursing assistants who earn more than $36,000 annually.
What CNAs Learn in School
While you don't need a bachelor's degree to become a CNA, you'll need a certificate and pass a certification exam. In class, you'll learn about taking vital signs, infection control, and personally caring for the patient. There are also topics like patients' rights and communication skills.
Upon completion of the CNA program, take the certification exam, which normally includes a manual skills test and a multiple-choice exam.
With flexible work hours and a strong job outlook, the certified nursing assistant job is an excellent starting point into the thriving healthcare profession. Many courses last up to 12 weeks and many schools have online study programs.
For more information about CNA Training, visit our Houston office at:
CNA TRAINING INSTITUTE,INC
140 Eldridge Road # G, Sugar Land, TX 77478
Phone: (346) 908-0942
https://cnatraininginstitute.org/