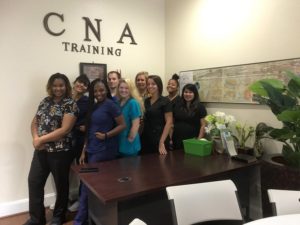 Certified Nursing Assistants, known as CNAs, are important healthcare workers that usually report to Registered Nurses (RN) or Nurse Practitioners. Their main role is to provide basic patient care, which in itself connotes a wide array of responsibilities.
In the U.S., a CNA may be called a Home Health Aide (HHA), State Tested Nursing Aide (STNA), Caregiver, or Patient Care Assistant (PCA), just to name a few. It usually depends on the healthcare facility where they work, whether inpatient or outpatient.
What they all have in common is that they're expected to perform bedside care, daily living assistance, and basic nursing procedures under the supervision of an RN.
But first, let's determine what the difference is between an RN and a CNA.
CNAs and Nurses
As previously mentioned, a CNA provides basic patient care. This is only one part of a nurse's responsibilities, as they, on the other hand, are concerned with the entirety of patient care.
Another difference is that RNs require an entire year of schooling, while one can become a CNA within the course of a semester. This means an RN gets to receive a bigger salary.
However, the biggest difference between a CNA and a nurse is that the CNA reports to a nurse, who supervises.
Now let's specify some of the tasks that a CNA is expected to complete.
CNA Responsibilities
As a patient's main caregiver, the following tasks are the usual things expected of CNAs:
Serving meals to patients and helping them eat
Assisting patients with bathing, dressing, and undressing
Making sure bedridden patients are comfortable and turned every so often to avoid bedsores
Providing and emptying bedpans
Changing the bedding
Stocking patients' rooms with necessary supplies
Regularly sanitizing areas where patients frequently go to or stay
Updating health charts and patient records
In addition to doing these, it's vital for CNAs to work together with their supervising nurses. Usually, this means regular reports to the nursing staff.
If they work in a hospital, there will be more additional concerns, including:
Taking vital signs
Answering calls from patient rooms
Compiling medical history and other records from previous caregivers and sometimes even the patients themselves
Examining patients for any bruises, wounds, or other concerns
Lifting patients into and from their wheelchairs, on and off exam tables, and in and out of bed
Transporting patients to and from their rooms to other hospital units
Preparing medical equipment for nurses and doctors
Informing the staff and treatment team (nurses and doctors) of any and all concerns regarding the patient
Overall, CNAs have to juggle a lot of responsibilities to fulfill their main role of providing basic patient care.
It requires good communication skills to be able to see and understand what a patient needs, and report all of this to the supervising RN and doctor. Most importantly, a strong sense of compassion should be the underlying motivation for a CNA to work efficiently.
Caring for and helping others is the bread and butter of the work that awaits CNAs. The perfect candidates are those who can communicate well and also provide care with the utmost compassion.
That is what a CNA does.
For more information about becoming a CNA, contact our Houston office at:
CNA TRAINING INSTITUTE,INC
140 Eldridge Road # G, Sugar Land, TX 77478
Phone: (346) 812-0147
https://cnatraininginstitute.org/