What Does a CNA Make an Hour? Here's What You Should Know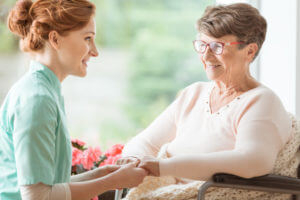 The term CNA stands for "Certified Nursing Assistant". In any case, the job description is similar with professionals in the practice occupying an important role in society. Obviously, CNAs are important members of the medical field and as such, they're compensated very well by their employers.
What does a CNA do?
CNAs have a wide array of responsibilities, depending on the specific aspect of medical care they're involved in. As the name implies, they provide basic patient care under the help and supervision of a nurse. Main responsibilities include feeding, bathing, grooming, dressing, and moving patients for health care purposes. They also gather basic health information and communicate these to the nurses. For example, CNAs can be the ones who take vital signs, answer patient calls, examine patients for external injuries or wounds, as well as sanitize patients.
CNA Training courses can vary from 3-week to 6-week programs, depending on the available schedule of the student. It also comes with clinical trials to ready CNAs for actual field work.
What is the hourly rate of a CNA?
CNA's have an average hourly wage of $12.52 with the typical minimum set at $9.88 and the maximum at $16.28. According to the US Bureau of Labor Statistics, the median annual wage as of May 2018 is $28,350.
Of course, the rates vary, depending on the employer and the specific skill sets required. While CNAs are typically entry-level jobs, you'll find that the number of years of experience heavily weigh on the annual salary. CNAs with experience of no more than 4 years have an average hourly compensation of $11.94.
CNA's are also entitled to bonuses and overtime pay. More interestingly, they may also be the recipient of tips from patients since they work so closely with people.
Who are the typical employers of a CNA?
You can find CNAs in practically all aspects of the medical field. In fact, they may operate under different job titles, depending on the employer. Other job titles for a CAN include but are not limited to the following:
Birth Attendant
Certified Medication Aide (CMA)
Certified Nurse Aide (CAN)
Clinical Assistant
Nurse's Assistant
Nursery Technician
First Aid Attendant
Patient Care Assistant/Associate (PCA)
Licensed Nursing Assistant
Infirmary Attendant
Hospital Aide
Health Service Worker
Certified Nursing Assistants can be found in both the government and private sector. In government organizations, they receive an annual median income of around $33,800. They can also be found in hospitals and nursing care facilities with median annual income of $30,050 and $27,840 respectively. They're also present in home healthcare services and retirement communities around $27,290 of median annual wage.
CNA Job Outlook
The demand for CNAs is expected to grow by 9 percent starting from the year 2018 to the year 2028. Given the recent and unexpected changes in the health situation of all countries however, the demand should exponentially increase for the position. Long-term, CNAs can expect a growing need for their specific skills, thereby ensuring that there will always be positions open in different sectors of the health industry. Due to the practically similar responsibilities of a CNA and a registered nurse, being a nursing aide can also be an excellent jump off point for those who want to be RNs.
Conclusion
Certified Nursing Assistants hold a very important role in the medical field. They serve as the "bridge" between the nurse and the patient, therefore making it easier for the nurses and doctors to diagnose and address patient problems. This puts the CNA in the frontlines, making it important for them to practice compassion and patience when communicating with patients. Not only is it a very emotionally rewarding job – it's also a good paying one with a demand that's expected to rise in the following years!
For more information about becoming a CNA, contact our Houston office at:
CNA TRAINING INSTITUTE,INC
140 Eldridge Road # G, Sugar Land, TX 77478
Phone: (346) 908-0942
https://cnatraininginstitute.org/
References:
https://www.registerednursing.org/certified-nursing-assistant/salary/
https://cna.plus/cna-job-description/
https://www.payscale.com/research/US/Job=Certified_Nurse_Assistant_(CNA)/Hourly_Rate