What is the fastest way to become a CNA?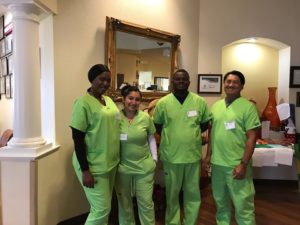 Certified Nursing Assistants (CNA's) provide a vital service within the healthcare system, dealing directly with patients and assisting other healthcare professionals to ensure that the best quality of care is delivered day-to-day.
Through their close patient interactions, CNA's are able to form strong bonds with their patients helping to make them feel more comfortable during their time of need. CNA's also undertake a number of nursing duties that are fundamental to basic care including recording vitals, serving patient meals, providing sanitation, assisting patients with dressing and socialising with both patients and their families.
Without CNA's registered and licenced practical nurses would be unable to effectively complete their duties resulting in gaps within the care system and a lapse in the quality of care provided.
Is a role as a CNA for you?
CNA's work on the front line in healthcare making their jobs hard work but also extremely rewarding. To enjoy your position as a CNA you will need to have a desire to help people and not be motivated by the promise of a paycheck alone. Some of the characteristics that CNA's require include great personal skills, reliability, compassion, empathy, patience and selflessness.
How can you become a CNA?
The good news is that the demand for CNA's is currently at an all-time high with The U.S. Bureau of Labor Statistics predicting a further 20% rise in the number of available CNA positions over the next ten years, so there's never been a better time to become certified.
The best and fastest way to become certified as a CNA is by becoming a part of a Consolidated Nurse Aid School in your local area. Consolidated nurse aid schools provide fast-track certification options with smaller class sizes and multilingual tutors to give each applicant the best chance at completing their certification. At a consolidated nurse aid school, training to become a CNA can take as little as 3 weeks with other slightly longer course options available for those who can only attend evening or weekend classes.
CNA training programs are usually split into 2 parts with the first taking place primarily in the classroom introducing CNA students to the basics of patient care through the use of presentations, lectures and other audio-visual tools.
Having learnt the basics of patient care in a classroom setting CNA students will then progress to an externship to practice and improve on their skills in a real-life setting. During their phase 2 clinical externship CNA students are supervised by a nurse who is licensed as a Primary Nurse Assistant Instructor.
Having undergone both classroom and clinical training the final step to becoming a certified CNA is to take a certifying exam, sometimes also referred to as a state test. The training program provided by your consolidated nurse aid school will have provided you with all of the information and skills needed to pass this exam. The test is split into two parts, a multiple-choice question paper and practical skills examination both of which must be passed to become accredited.
For more information about becoming a CNA, visit our Houston office at:
CNA TRAINING INSTITUTE,INC
140 Eldridge Road # G, Sugar Land, TX 77478
Phone: (346) 908-0942
https://cnatraininginstitute.org/