What it Takes to Become a Certified Nursing Assistant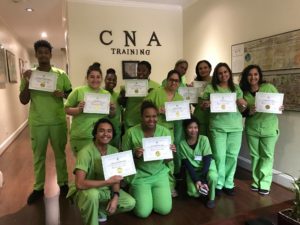 If you want to be in the noble medical profession without the heavy responsibilities of registered nurses or licensed practical nurses, becoming a certified nursing assistant may be the path for you. You need more skills than provide care for the patient.
You also need to possess certain qualities that can help you carry out your tasks with grace. CNAs must enjoy dealing with people daily in order to find fulfillment. To be a CNA, you must also possess certain qualities and attributes like:
Time management
Flexibility
Advanced communication skills
Reliability
Compassion
Empathy
Adequate physical strength
Before you enter the medical profession as a CNA, you must know the duties of being this kind of healthcare worker. You need to be prepared for tasks like:
Obtaining patients' vital signs
Repositioning or turning patients
Gathering supplies for the doctor or the registered nurse
Bathing patients
Answering patient bells/calls
Documenting obtained information
Cleaning bed linens and rooms
Shaving, combing hair, brushing teeth, and caring for nails
Feeding patients, and measuring and recording their liquid and food intake
Preparing rooms for admission
Stocking supplies
Dressing wounds
Assisting with medical procedures
Assisting patients with excretion and elimination
CNAs may work in a hospital setting. However, they gain employment more in rehabilitation centers, long-term residential facilities, and day-care centers for adults. CNAs are not often employed in outpatient clinic/office settings.
According to the U.S. BLS (Bureau of Labor Statistics), there were about 1.4 million CNAs as of 2016. About 37% of them work at nursing care facilities, while 4% of them work in home-based healthcare.
According to the BLS, CNAs' average annual salary in 2016 was $26,590. However, this figure varies from state to state and depends on the setting. For instance, home health care services pay CNAs $25,590. Meanwhile, at a VA hospital, a certified nursing assistant can earn as much as $37,450 annually.
Nursing assistants have to be flexible with their time as they can work odd hours. Some CNAs work multiple shifts during the week, while other CNAs have a fixed schedule and earn a yearly salary. A CNA's potential to earn is determined by the hospital's needs and the offer contract.
Currently, CNAs can get higher pay if they work in these states: Alaska, New York, District of Columbia, Nevada, Hawaii, North Dakota, Connecticut, Oregon, California, and Minnesota.
Moreover, metropolitan areas offer higher pay to CNAs. These metro areas include San Francisco, Fairbanks (Alaska), Tyler (Texas), and San Jose.
Becoming a CNA
The path to becoming a CAN is pretty accessible. To become a CNA, you need to undergo a state-certified training program. You can train at such programs, which are offered at high schools, local community colleges, technical schools, vocational schools, or local hospitals.
While most training centers, most especially the Red Cross, offer in-person classes, some community colleges and vocational schools offer certified nursing assistant programs online. Many CNA programs run from 4 to 12 weeks, comprised of clinical and classroom hours. You may take a competency exam after you're finished with the CNA training program.
For more information about CNA Training, visit our Houston office at:
CNA TRAINING INSTITUTE,INC
140 Eldridge Road # G, Sugar Land, TX 77478
Phone: (346) 908-0942
https://cnatraininginstitute.org/