What to Study in a CNA Program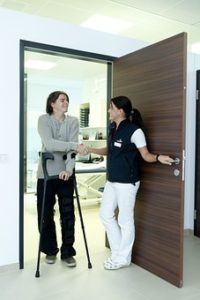 The certified nursing assistant program is an excellent choice for compassionate individuals who want to make a difference in their patients' lives. This program is also accessible and appealing to many people aspiring to be in the medical industry, as the training program is affordable and it takes a small amount of time to complete. After training, graduates of the program are eligible to take the CNA certification exam.
The CNA training program takes 4 to 12 weeks to complete, which is broken down into clinical practice and contact hours. State-approved CNA programs offer at least 75 hours of clinical training and classroom instruction. Take a 120-hour program, for example. This is divided into 4 weeks in a classroom setting and 2 weeks in a clinical environment.
What You'll Learn From A CNA Program
Since the CNA program takes a relatively short duration, you're taught a variety of topics. After a few weeks of in the classroom, you'll get a few weeks of hands-on training.
The courses normally cover how to work in various settings, like in hospitals, home care, and nursing care facilities. Students in the program learn:
Basic nursing care
Long-term care
Controlling infections
Taking vital signs
Emergency procedures
Communication skills
Personal care skills
Online Training
Aside from learning in an actual classroom setting, you can also learn to be a certified nursing assistant through an online program. Vocational schools and community colleges offer online CNA programs. If you enroll in such a program, you're likely to do your clinical training at a school-coordinated local hospital.
Check with the state boards to determine the approved online programs. Check with the boards before you enroll. Oregon, for example, has 2 CNA levels and certain online programs designed to teach students for one of the levels.
When you have determined the right school for you, expect classes on theory to be taught online. You'd still be required, however, to attend laboratory sessions. Once you're going on your clinical training, show up at your designated location to accomplish the training hours.
Online CNA training offers cost savings and flexibility. Before enrolling, make sure the program's curriculum is state-approved. If not, you may not be able to take the certification exam.
Prerequisite and Costs
Many CNA programs require a school transcript of records, a high school diploma, or a GED equivalent. Certain programs may also let candidates take an entrance exam and undergo a background check.
Moreover, the CNA program tuition fees vary based on whether you take an associate's degree program or in a diploma program. An accelerated program can cost about $13,000 while a nine-month program can cost around $17,000.
Once you've graduated and earned your diploma, you'll still be needing the state's competency exam, which are conducted by PearsonVue or Prometric computer testing systems. Costs for this exam depend on the state. Thus, check your respective state nursing board to find out the costs.
Employment
CNAs can be expected to easily find jobs through 2026. The Bureau of Labor Statistics states that employment may increase by 11% because of factors like more patients with chronic diseases, moving into nursing homes, and an aging population.
If you want to move on from being a certified nursing assistant, you can work in similar careers as an occupational therapy assistant, LPN (licensed practical nurse), or as a personal care aide.
For more information about CNA Training, visit our Houston office at:
CNA TRAINING INSTITUTE,INC
140 Eldridge Road # G, Sugar Land, TX 77478
Phone: (346) 908-0942
https://cnatraininginstitute.org/