Where's the Best Place to Work as a CNA?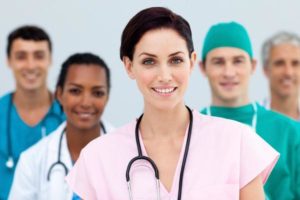 There are many places in which a Certified Nursing Assistant (CNA) can work. At first, experience anywhere is important to a new CNA, but other job opportunities may arrive eventually. The usual workplaces for CNAs include local hospitals, nursing homes, assisted living facilities, and home health aide agencies. The patients here can range from young to old, and the work hours can vary depending on the workload shared by the CNAs and nurses.
Here are the 3 most common job settings for a CNA.
Hospital
Because a hospital job is challenging, the many benefits that come with it plus the choice of work hours are perks that make this a coveted career option for CNAs. This means fiercer competition to get hired. There's also the potential for growth due to well-trained nurses being your mentors in the field. Compared to other workplaces, the salary in hospitals is higher, entailing job security. It's no wonder it's difficult to find a hospital job in the first place. Aspiring CNAs have to regularly check the job pages on hospital websites and send a resume to human resources. It's usually hard to get hired, though.
Nursing Home
A CNA often begins their career at a nursing facility. These are always in demand because of the large number of aging and disabled patients. Of course, this place can be the first step to becoming a CNA at a hospital later on, but many learn to love working at a nursing home. It's difficult work, requiring interaction with many patients with various health issues. The good thing is, a nursing home job is just as secure as a hospital job, with full-time employment yielding benefits. The only downside is the stress of dealing with as many as 8 to 12 patients. The experience, however, is unique and incomparable to any other field.
Home Health Aide Agency
Another popular workplace for CNAs is the home health aide agency. Though the pay is similar to that in nursing homes, the patient ratio is less demanding, with a need to look after just one person. There's less risk of the notorious burnout that a CNA at a hospital or nursing home must deal with. One con with this career path is that it takes time to be allocated to the patient. While waiting, most must work at other places to keep earning. A more taxing and emotional experience, however, is dealing with the loss of the patient. It's unavoidable to form a connection or grow close to the person in one's care, so losing them can be sad and even traumatic. Each CNA workplace has pros and cons. Whether it's working hours, stress level, salary, or emotional load, many factors play into each environment.
One will eventually be able to gauge where they're needed and what they can offer, but ultimately, CNAs choose depending on availability. Still, it's good to know the various career options and try to pursue a path where providing care won't be just a job.
Want to become a CNA? contact us at:
CNA TRAINING INSTITUTE,INC
140 Eldridge Road # G, Sugar Land, TX 77478
Phone: (346) 908-0942
https://cnatraininginstitute.org/