10 REASONS TO :
BE A NURSE AIDE      
BE A PROFESSIONAL AT AN EARLY AGE OF 18.

NO PRE REQUISITE REQUIRED TO BE A NURSE AIDE.

EXPOSURE TO OTHER HEALTH CARE CAREERS.

PRE REQUISITE FOR ENTRY INTO NURSING PROGRAM.

HIGH DEMAND IN HEALTH CARE FOR AGING ELDERLY BABY BOOMERS.

VARIED WORK ENVIRONMENTS (HOSPITAL, NURSING HOME, HOME HEALTH, HOSPICE, CLINICS, ETC.)

EMOTIONALLY REWARDING CAREER

FLEXIBLE SCHEDULES IN JOBS

COMPETITIVE SALARY WITH A FINANCIALLY STABLE FUTURE

CERTIFIED NURSE AIDES WILL HAVE PREFERENCE IN JOBS OVER THOSE WITHOUT A CERTIFICATE LICENSE.
BE PART OF A CONSOLIDATED NURSE AIDE SCHOOL      
COURSE COMPLETED IN A 3 WEEK PERIOD.

AFFORDABLE COURSE FEE WITH PAYMENT PLAN OPTIONS.

SMALLER CLASS SIZE WITH INDIVIDUALLY FOCUSED TRAINING BY MULTILINGUAL INSTRUCTORS (SPANISH, HINDI).

CLINICAL ROTATIONS AVAILABLE AT NEARBY NURSING HOMES.

TRANSPORTATION AVAILABLE FOR STUDENTS IN 10 MILE RADIUS FROM SCHOOL.

ONSITE CPR TRAINING.

PERIODIC REFRESHER COURSES FOR STUDENTS TO PREPARE FOR STATE EXAM.

ONE AND ONLY STATE ACCREDITED NURSE AIDE EXAM CENTER LOCATED IN FORT BEND COUNTY.

ONLY CNA TRAINING SCHOOL IN SUGAR LAND.

100% JOB PLACEMENT FOR ALL GRADUATED STUDENTS.
A C.N.A. is an abbreviation for a Certified Nursing Assistant, a job in the healthcare industry that provides daily living assistance, bedside care, and basic nursing procedures to patients under the supervision of a Registered Nurse (RN).

The services provided can occur at all types of in-patient and out-patient healthcare facilities.

Other names for a CNA in the United States are State Tested Nursing Aide (STNA), Nursing Assistant-Registered (NA/R), Home Health Aide (HHA), a Caregiver and Patient Care Assistant (PCA).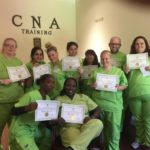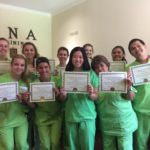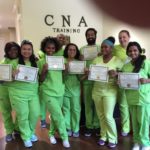 Classess offered throughout the year
3 Weeks Training program Monday to Friday
Week One: 9am – 5pm
Week Two: 9am – 5pm
Week Three: 6am – 2pm
Onsite CPR Training Available
Approved by DADS

What is CNA
A Certified Nursing Assistant, also called a CNA, works under the supervision of a Registered Nurse, LPN, Physician Assistant, Nurse Practitioner, Medical Doctor, Resident, or other supervisory staff as designated by the health care facility, or supervisor.
Course Details
The first part of our certified nurse assistant training takes place in the classroom. During classroom training, students will learn all aspects of patient care, through lectures, audio video, and practical demonstrations.